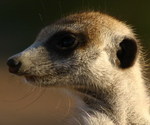 Mozart(VWF053) was born November 8, 2002 in the Whiskers Mob. Her mother was the dominant female Flower, and her father was the dominant male, Zaphod Vivian. Mozart was born with three other brothers; Shakespeare(VWM054), Freud(VWM051), and Einstein(VWM052). Mozart and her brothers were Flower's second litter. On March 18, 2003, Mozart's brother Freud disappeared while roving. However, the rest of the litter survived to adulthood. Mozart became a regular Whiskers babysitter, along with her older sister Baddiel. When Mozart mated with an unknown rover for the first time in her life, she got pregnant. However, she aborted her litter. Mozart got pregnant again and gave birth to her second litter, but her pups were abandoned on March 26, 2004. Mozart was seen pregnant again on April 17, 2004, Her mother Flower was also listed as pregnant again on April 22, 2004. Within the next week both Flower and Mozart aborted their litters. On August 18, 2004, Mozart, her sister Baddiel and her mother Flower were all pregnant. Flower was the first to give birth to her litter of four pups on September 6, 2004. Since she gave birth before Mozart and Baddiel, they could've killed their mother's pups. However, neither of them did. Mozart then gave birth to her first surviving litter on September 28, 2004 to Tina Sparkle, Spud, VWF077, and VWM079. Baddiel gave birth to a litter of three pups a few days later. All of the litters lived in the same burrow and were cared by the Whiskers. Mozart's uncle Yossarian inigated a burrow move and brought Mozart's and Baddiel's pups, who weren't out of the burrow yet, above ground. Thankfully, Shakespeare and Pookie brought the pups back into the burrow.
Ad blocker interference detected!
Wikia is a free-to-use site that makes money from advertising. We have a modified experience for viewers using ad blockers

Wikia is not accessible if you've made further modifications. Remove the custom ad blocker rule(s) and the page will load as expected.