Birth/First seen group:Elveera
Last Group:Elveera
Birth/First seen:November 24,2002
Death/Last seen:June 1,2009
KMP code:VEF079
Jo Jo Hello was born on November 24,2002. Her mother was Eleusine. She was born with four littermates.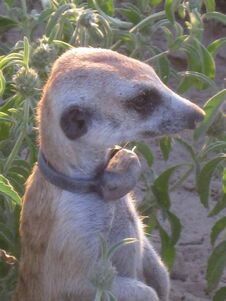 Eleusine was the dominant female by then and Jo Jo Hello's father may have been Silks Vivian. She survived to adulthood and became a subordinate female under her mother Eleusine. After Eleusine gave birth to her last litter she was killed by a cape cobra and died on December 9,2005. Jo Jo Hello took over as dominant female after her. Just a month after Eleusine died Dante the dominant male was last seen in January of 2006 leaving Elveera only led by dominant female Jo Jo Hello. Two months after Dante disappeared three Young Ones males immigrated. Habusu took the position of dominant male beside Jo Jo Hello over his brothers Teabag and Biltong. Jo Jo Hello gave birth to her first litter on March 19,2006 when she gave birth to two females Chibuku Scud and Kangela and one male pup Gijima. Her next litter arrived on August 12,2006 when she gave birth to two pups Scrawney and Mr. Scruff. Jo Jo Hello did not produce any further litters in the coming months and her daughter Scrawney disappeared in January 2007. Throughout May and June 2007 no pups were born in the Elveera group and the group encountered Lazuli group and wild group within the two months. Within September Habusu lost dominance to Teabag and throught 2007 Jo Jo Hello did not produce any litters which survived. Her next surviving litter arrived on January 8,2008 when she gave birth to Sisulu,Sobukwe,Luthuli,VEP130 and Tutu. VEP130 disappeared in February. Jo Jo Hello led the Elveera group South and there she gave birth to her next litter on April 3,2008 to two females Vidy and Nathalie and one male James Bond. By May the group encountered Toyota group. Within September Jo Jo Hello's daughter Chibuku Scud gave birth to three pups on September 17,2008. Jo Jo Hello's gave birth again on November 15,2008 when she gave birth to Winnie,MIka and Oskar and gave birth to her next litter on February 7,2009 to Kumba,Chil Sung and Cuzco. Her daughter Sobukwe disappeared on February 1,2009 and her daughter Kangela disappeared in April 2009. Within June 2009 TB disease hit the group and Jo Jo Hello was taken by disease and died on June 1,2009.
Ad blocker interference detected!
Wikia is a free-to-use site that makes money from advertising. We have a modified experience for viewers using ad blockers

Wikia is not accessible if you've made further modifications. Remove the custom ad blocker rule(s) and the page will load as expected.