Birth/First group:Whiskers
Last group:Whiskers
Birth/First seen:November 22,2001
Death/Last seen:October 28,2003
KMP
code:VWF039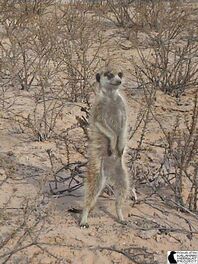 Itchy was born on November 22,2001 her mother was Vialli the dominant female of Whiskers by then. Itch was born in a litter of 7 with 6 litter mates consisting of two brothers Big Will and Tarzan and 4 sisters named Thelma,Louise,Daisy and Scratchy. Her mother Vialli had previously lost a litter in the previous breeding season in the Whiskers group and this was her first surving litter. Itchy and her siblings survived. Her father was probably Zaphod Vivian. Itchy and her sisters became subordinate females and few weeks after the pups began to forage with the group, her mother Vialli disappeared on January 24,2002 and was presumed to have been predated. Itchy's aunt Flower(then almost two years old) took over dominance in Whiskers. Her brothers Big Will and Tarzan began to be regular rovers and while her brother Big Will left the Whiskers group in a large roving coalition on January 23,2006 her other brother Tarzan got a brush with death roving at Young Ones and was nearly killed by the Young Ones males in the attack on September 19,2003. Itchy's first pregnancy was in 2003 though her litter was killed by Flower on January 22,2003. Her sister Scratchy gave birth on March 1,2003 but her litter was abandoned. Scratchy appeared pregnant again on October 6,2003. Flower then evicted Itchy on October 21,2003 with her sisters Thelma and Daisy and Scrathcy gave birth in a spare burrow though her pups never survived. Itchy was last seen on October 28,2003 with Scratchy and Daisy.
Ad blocker interference detected!
Wikia is a free-to-use site that makes money from advertising. We have a modified experience for viewers using ad blockers

Wikia is not accessible if you've made further modifications. Remove the custom ad blocker rule(s) and the page will load as expected.